Clements features southern art icon Thornton Dial in April 7th Auction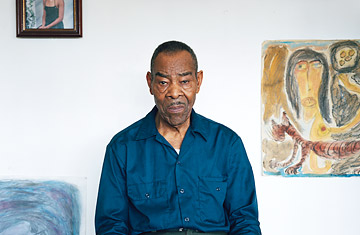 It was once said that not everyone can become a great artist, but a great artist can come from anywhere. There is perhaps no better example of this than the Alabama native, self taught artist Thornton Dial. Clements is proud to offer 3 works from this iconic artist in our Spring Fling 2019 Auction beginning April 7th at 1:00pm.
Born in the segregated South to a poor family of sharecroppers, Dial began creating his art out of the derelict items found throughout his hometown of Bessemer, Alabama. Using dilapidated items of metal and wood, ranging from okra stalks to plastic buckets, he began to assemble forms that emulated the poverty stricken and downtrodden communites of the rural South.
When he began to explore more traditional mediums of watercolor and pastel, he began to use the recurring theme of a tiger through his works. The sprawling jungle cat served as a representation of Dial himself, an African American male clawing for survival in America.
He would go on to have his work exhibited at some of the most prestiguous museums in the world including The Metropolitan Museum of Art, The High Museum, The Whitney Museum of American Art, The Smithsonian, and many more. He founded and became chairman of the Souls Grown Deep Foundation, an organization dedicated to the preservation of African American art for those viewed as outsiders, much like himself.
Clements is honored with the opportunity to be able to showcase works from this influential Southern artist. Don't miss your opportunity to bid. Register for the auction by clicking here.