In 1938, Charles W. Clements Sr. began selling antiques bought from local estates in his teenage years. It wasn't long before Mr. Clements became the most well known antique specialist in the region. He opened up one of the first auction firms in the Southeast, holding the Tennessee Auctioneer license number 13. In the early 1960s, Mr. Clements became one of the first importers of fine English furnishings and antiquities. By creating the South's first antique wholesale operation, he began traveling across the globe, amassing a collection of treasures over 75,000 square feet in size. It was then Clements Antiques established itself as an iconic figure in the antique auction industry

Today, Charles W. Clements Jr. carries on the traditions passed down from his father. His children, Christy Clements Beach and Chas Clements stand behind Charles as the third generation to enter the trade. Clements Antiques continues to be the premier firm in the Southeast for the brokerage of fine estates, antique furnishings, and works of art. We work with trust departments, personal and private collection agencies, curators, and consignors to bring you the finest and rarest furnishings and collectibles still available. We understand that quality acquisition ensures the satisfaction of even the most discriminatory collector, designer, or client.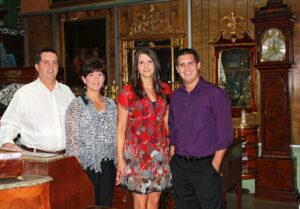 Here at Clements, our goals are simple. Since 1938, we have striven to bring our clients nothing but the very best, with Honesty and Integrity Above All Else.