A 20th-century pair of Chinese porcelain plaques absolutely demolished its $400-$600 estimate to achieve $137,500 during an April 2 sale at Clements auction house.
Charles "Chas" Clements, vice president of Clements auction house, received the first hint he had something extra-special when he and his colleagues posted the sale catalog online and were quickly smothered by inquiries. "The amount of requests for condition reports, additional photos, requests to bid – I've never seen anything like it," he said. "I was buried in questions for a month, and they were all about these plaques."
The wood-framed pair had been consigned by a family from the Tennessee town of Lookout Mountain, whose grandfather had traveled to China in the 1940s. "I knew the plaques weren't terribly old. We weren't familiar with the artist's marks," Clements said. "We waited 146 lots for them to hit the auction block, and they went into outer space."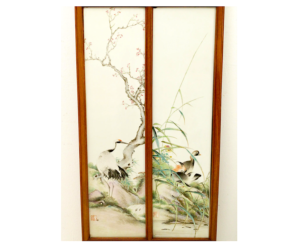 Artist's marks on the plaques indicated they were by Pan Taoyu, a leading creator of art porcelain during China's Regency period. He died at age 39, and surviving works by him are scarce.
The much-anticipated lot in the online auction took two or three minutes to dispatch, its numbers having jumped precipitously from $200 to $34,000 after the prebids were accounted for and included. "Then the bids continued to climb to $110,000," he said, noting the price with the buyer's premium was $137,500.
The winner was a Canadian dealer who acted on behalf of Chinese clients. That person came to Tennessee to personally pack the prize for shipping to China. In the course of doing so, the winner gave Clements the information that solved the mystery of why so many fought so keenly for the lot.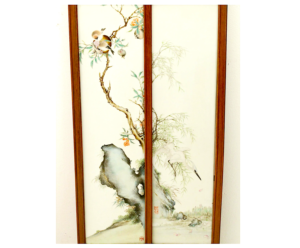 The plaques were consigned by a Tennessee family whose grandfather had visited China in the 1940s.
The artist's marks identified the painted plaques as the handiwork of Pan Taoyu (Chinese, 1887-1926), one of the foremost creators of art porcelain during China's Republic period (1912-1949). He adopted the studio name Gu huan (which translates as 'ancient joy') and trained artists such as Wang Yeting, Liu Yucen and Cheng Yiting, who went on to become members of the artists' group known as the Eight Friends of Zhushan. Pan Taoyu died at the age of 39, and his surviving works are relatively scarce.
After the crush of interest earned the lot most-viewed status in the online catalog, Clements checked in with the consignor to let her know "something was going on with these plaques" and they were likely to sell above the estimate. She did not follow the online sale live, but the six-figure final result left her in delighted disbelief. Clements recalls her saying she "wished they could see her jumping up and down."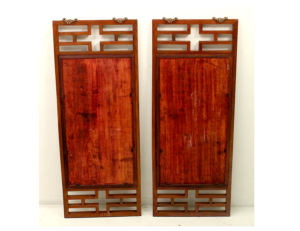 Still buzzing from the triumphant sale, Clements said, "We're a third-generation, family-run business. We can take a lot of pride in the fact that we can expose these items to a global audience. We have the marketing to put it out there and get it to the right people."